Dec 8, 2005

Quo Vadis has also been selected as the band of the month on www.thedarkesthours.com Thanks again to everyone who supported us in making this release possible! Below are two new samples from the DVD...

The media's point of view:

""QUO VADIS's 3-DVD set "Defiant Indoctrination" is a smorgasbord of technical goodness and showmanship. It's a seven course meal for technical metalheads. Bon apetit!"

8.5/10 -- UNRESTRAINED!


"Quo Vadis' Defiant Indoctrination is a first-class effort on all counts. The band continues to showcase its renowned dexterity and prowess, in the process performing some of the best metal to currently grace the

international scene. Quo Vadis' spirited and impressive achievements are surely reflected on Defiant Indoctrination, a release that is not to be missed."

-- David Perri, BW&BK, 8.5/10

Quo Vadis - Defiant Indoctrination - Skyscraper - 90%

Quo Vadis fans, it's time to add this triple DVD in your christmas wishes if you know what I mean! By putting this DVD in your player, you'll live an amazing visual experience and you'll witness a very strong live performance from one of the most underrated band in North America and this DVD is the proof! The performance of the band is top notch. Watching Bart shredding his guitar is always cool cause this guy definitly knows how to play and his interaction with the crowd is cool to see. The drummer (that we can see the entire show on the bonus DVD) is solid as a rock and always dead on, tight as hell! And also what can I say about Forest behind the bass. This guy is just amazing and we can clearly hear him loud in the mix and that's a very good thing cause his execution is quite perfect! So basically, the performance is amazing! Add to that the stunning lights on the big stage in Montreal's Medley, the 25 persons choir, the body-painting on the dancers (pretty weird choreography that fits perfectly with the vibe of a killer metal show like that!) and finally, some guest musicians like Claude Lamothe (cello) well known internationally and members from Cryptopsy & Anonymus. So as for the visual and performance could you ask for more? The answer is no! You got the real deal! This is the kind of DVD you listen from start to finish without taking break! Ok, now it's time to talk about the technical aspects of this triple DVD. I've been working in the Television domain for about 10 years now and one of my job task is quality control and I love to check out everything! Here's what I see on my HDTV screen. Concerning the image, one thing that really hit me right when I push the play button is that the video editing has been more than well done! In fact, that's probably what I like the best about that DVD. It's very professional and there's always some action on the screen and everything blend well together! Film with 8 cameras and one moving crane, the editer had a lot of choices for the choice of all the images and did an amazing job! Ok, It's a live show so since it's filmed in a dark place, you can see a bit of noise in the darkest parts but don't get me wrong, the picture quality is very good. We're far from HD but that's a very good quality. The only big deception for me was the fact that the image is a 4:3 letterbox instead of a true 16:9. A 16:9 would have look killer in my TV set!!! Concerning the sound. This DVD as been mixed by Jean-François Dagenais and he did a killer job! You can clearly hear every musical instruments and everything has been well balanced! You got a nice volume range and I had a lot of pleasure blasting it in my home movie theater! The only deception is that you got a 2.0 stereo mix instead of the 5.1 I was dreaming of! An excellent 5.1 mix would have been amazing compare to a stereo mix. So the bottom line is: the overall quality is very good and fun to watch. There's no annoying things that really bug me. Sure the 16:9/5.1 thing would have make this DVD perfect but at least you got quality stuff anyways! As a bonus you got the entire show on the DVD 3 that focus on the drums. That's cool but to be honest 2 tracks would have been enough or maybe adding different angles possibilities to the main feature but that's only my point of view. Also backscene footage,interview & video clips would have been good too but they didn't include that kind of bonus. On a triple DVD sets it's quite weird to not get that kind of bonus. Having said that, only for the amazing show, you need this DVD and I'm not joking! You need it!!! Even the menu is more than well done. Simple but well done! The world needs to know Quo Vadis more and to be honest, this is probably to best product to buy if you don't know the band! Awesome!

MARK: Image: 85% Video Editing: 100% Sound: 85% Bonus & Menu: 80% Performance: 95%

--Patrick Dumas, The Darkest Hours, 90/100

Nov 27th, 2005
Press Release:
Quo Vadis Releases "Defiant Indoctrination" triple DVD (view the DVD artwork here.)
An astounding, monumental stage show brings together Quo Vadis' intensity with a visual representation of the music by means of human canvas (body-painting), choreography and completed by a spectacular light show. The band members, supported by a 25 person professional choir, a violinist, internationally renowned guest musicians such as Claude Lamothe (cello) and members of Cryptopsy and Anonymous, performed a set that included a full rendition of Defiant Imagination as well as a selection of the band's best songs from past albums.
Mixed by Jean-François Dagenais, this unforgettable performance by the band, recorded with the use of 8 broadcast quality cameras and 1 moving crane, is now immortalized on this triple DVD package for the world to see. Witness the Quo Vadis experience, and feel the sheer energy and intensity of the band's live performance. Bonus DVD includes drum footage of the entire show.
Defiant Imagination has received praise from the international metal community, including Album of the Year by HailMetal (Australia), 15/15 Legacy Magazine (Germany), 8.5/10 by Brave Words and Bloody Knuckles (Canada). Quo Vadis' success has pushed them to the forefront of the Canadian metal scene with 2 Canadian headlining tours, and has allowed the band to perform at festivals in Europe.
DVD1:

1. Quo Vadis Homine
2. Silence Calls The Storm
3. In Contempt
4. Absolution
5. Pantheon of Tears
6. To The Bitter End
7. Carpae Deum
8. Mute Requiem

DVD2:

1. In Articulo Mortis
2. Fate's Descent
3. Vital Signs
4. On The Shores Of Ithaka
5. Tunnel Effect
6. Inner Capsule
7. Dead Man's Diary
8. Ego Intuo Et Servo Te
9. Legions Of The Betrayed
10. Break The Cycle

DVD3:

Bonus drum footage (entire show)

Nov 25th, 2005
More news, DVD clips coming soon... view the DVD artwork here.

July 19th, 2005
CANADIAN TOUR
We are in the midst of getting the last details sorted out for our 2005 Canadian tour (with Augury as direct support). The tour will take us coast-to coast in July and August. Here are the dates, prepare to be INDOCTRINATED:

July
2: Laval, QC - Xtreme Distortion Fest
26: Rimouski, QC - Le Parc Beauséjour (Open Air)
28: Baie Comeau, QC - Centre Henri-Desjardins
29: Fredericton, NB - Bugaboo Creek Pub
31: Halifax, NS - The Pavilion

August
9: Thunder Bay, ON - The Appollo
10: Winnipeg, MB - The Collective Cabaret
11: Saskatoon, SK - The Roxy On Broadway
12: Edmonton, AB - The mead hall
14: Calgary, AB - The Underground
16: Prince George, BC - CANCELLED
19: Vancouver, BC - The Brickyard
20: Victoria, BC - Sugar Nightclub


MODERN DRUMMER MAGAZINE REVIEW
Defiant Imagination has been reviewed by Modern Drummer magazine. The review can be found in the August issue, in the Critique section. Click here to read it. Jeff Perlah had great things to say about Yanic's drumming and the music and arrangements of the album. "I am very honored that Modern Drummer chose to review the album", says Yanic. "Thanks for the kind words Jeff!"

YANIC'S WEBSITE
Yanic is currently constructing a website www.yanicbercier.com. The site is being built to provide information to musicians and fans wanting to keep up to date on his activities. Go check it out!

May 17, 2005
We would like to sincerely thank everyone who joined us at the show on May 7th. We haven't seen the footage yet, but we are really looking forward to seeing it soon! We are grateful to each and everyone of the bands that played that night: Despised Icon, Augury, Soul of Darkness and Ashes of Eden.... and all the 1400 screaming metal-heads who showed up to celebrate the evening. Photos are coming soon (probably at the same time as photos from our shows in Germany).
In the meantime we'd like to let everyone know that the band is now officially distributed n the following territories:
Germany, Austria, Switzerland, Norway, Belgium & Netherlands via Twilight Distribution
France via Underclass Music (in association with Skyscraper)
USA via Century Media Distribution (in association with Skyscraper)
Israel via Raven Music (in association with Skyscraper)
The feedback for Defiant Imagination from Europe has been great. We should be posting some new reviews in the Critics section once we scan them.
In addition, Quo Vadis will be on the road on:
May 21 - Quebec City, L'Imperial
June 2 - Trois Rivieres, Maquisart
June 3 - Chicoutimi, Polyvalente Laure-Conan
June 4 - Dolbeau, Salle des Chevaliers de Colomb
June 10 - Amos, Théâtre des Eskers d'Amos
June 11 - Rouyn, Théâtre du Vieux Noranda

April 04, 2005
Hi all...
Here is an overdue update as to what has been happening with us for the past few weeks...

Our first shows in Europe were quite an experience! The band played it's tightest show in Osnabrück Germany. The sound was impeccable, thanks to our soundman Burnzzzz who accompanied us on the trip. Photos will be added to the site in the next few days. Many thanks go out to the promoters (Darkrise in Dortmund, and Bowel's Supper in Osnabrück) that helped us make it happen, as well as everyone we met in on the way! Also, who can forget AMSTERDAM! We now know that SIX people CAN fit in the back of a taxi given proper motivation. We can't wait to come back. We had hoped the trip would open some doors for Quo Vadis in Europe and indeed it has. Stay tuned for new developments

DEFIANT IMAGINATION RELEASE PARTY/LIVE DVD RECORDING
Now that we're back in Canada we are focusing out attention on the home front. We will be playing our first Montreal show in over two years on Saturday May 7th at the Montreal Medley. After this show, which no one will want to miss, the band will focus increasingly on international touring. This is the last Montreal show planned until at least 2006 so do not miss your chance.

The May 7th event will of course be the Defiant Imagination release party, with special guests Despised Icon, Augury, Soul of Darkness and Shiverdown. Quo Vadis will be recording footage for the live DVD as they play Defiant Imagination in it's entirety, as well as songs from previous albums. This will be the most theatrical show Quo Vadis has ever attempted. We will attempt to interpret Defiant Imagination not only through performance but also though other means like, having bodypainitng models bring the cover to life through visuals and movement. Check www.alexmurals.com to see examples of bodypainting the artist has done in the past. We are also planning a live choir as well as some guest musicians - this we hope will add a special touch and ambiance to the show. Anyone who knows Quo Vadis knows that we treat all our recordings very seriously and this will be a performance unlike any other, and it will all be immortalized on DVD. Be there and let your screams be heard! Tickets are available at The Medley, as well as all the usual store locations.
HOODIES 15$/T-SHIRT $10 (limited quantities) if you purchase your ticket at FreeSon Rock
We have made available a limited quantity of Defiant Imagination hoodies and long sleeves for people who pick up their tickets at FreeSon Rock. By picking up a ticket at FreeSon Rock, you can get one hoodie for only $15 or a long sleeve for $10 (that's less then a t-shirt!), as supplies last.


February 18, 2005
Quo Vadis' unique brand of Canadian Metal will be officially available in France under an exclusive distribution agreement with Underclass Music / Skyscraper Music. The invasion begins with the release of Defiant Imagination on March 7th!
Quo Vadis album "Defiant Imagination" has been nominated for the 2005 MIMI award for best in "Power (Pure force, tightness, energy)". Vote for us starting February 17th HERE.

Upcoming shows:
Feb 25, Granby, at Club Aramis, QC, Canada
Feb 26, Quebec, at Kashmir, QC, Canada
March 4th: Dortmund, Germany (The DARKRISE Metal Night) at FZW
March 5th: Osnabruck, Germany (Bowels-Supper Fest III) at DUETHALLE
DESTROY!

February 11, 2005
Good news for all you Euro freaks out there - we have made the tickets for Bowels-Supper fest (Osnabruck) available online. Since some of you have e-mailed us that you don't speak german here's the info for you:
Online Tickets are 13Euro + the CCNOW fee so it all comes out to about 15 Euro. Bring your CCNOW e-mail as a receipt and you will be able to pick up the tickets at the door of the venue!
Click on the flier below.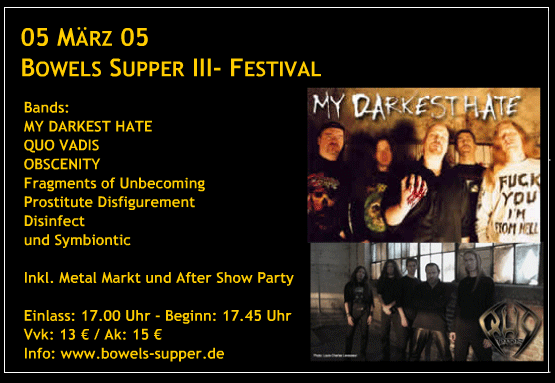 Upcoming shows:
Feb 25, Granby, at Club Aramis, QC, Canada
Feb 26, Quebec, at Kashmir, QC, Canada
March 4th: Dortmund, Germany (The DARKRISE Metal Night) at FZW
March 5th: Osnabruck, Germany (Bowels-Supper Fest III) at DUETHALLE



February 2, 2005
QUO VADIS: EXCLUSIVE EUROPEAN DATES CONFIRMED!
The time has finally come for the band to cross the Atlantic. Thanks to the hard work of the new lineup with over 10,000 km on the road in Canada for 2004, Quo Vadis' first series of shows in Europe has been confirmed! In addition to the headlining dates in Canada, the band will co-headline the following dates:
Feb 25, Granby, at Club Aramis, QC, Canada
Feb 26, Quebec, at Kashmir, QC, Canada
March 4th: Dortmund, Germany (The DARKRISE Metal Night) at FZW
March 5th: Osnabruck, Germany (Bowels-Supper Fest III) at DUETHALLE

The hard work has finally paid off. The reaction to the new album has surpassed all of our expectations. The first three pressings have almost completely sold out in the couple of months since the November release and we are ready to take the new challenge of crushing European audiences. The band is absolutely in the best shape of its career. We are very happy to share the stage with truly talented musicians such as Will, Forrest and Roxanne and everyone is looking forward to having a great time on the road.

Prost!

January 26, 2005
Our next series of shows are scheduled for February 25 and 26 in Granby and Quebec City, QUE, respectively. We can't wait to play the new material live and drink large quantities of beer!
We hope to see many of you there!
We would like to announce that Yanic is officially endorsing AKG Acoustics products (microphones, wireless systems, monitoring systems, etc). AKG are renowned for designing and engineering high quality studio microphones, such as the C414, C451 and D112 in particular, which have been a standard in many professional studios worldwide for many years.

January 14, 2005
Happy new year to everyone! All the best for 2005! Quo Vadis' Defiant Imagination makes it as "Album of the Year" at Australia 's HailMetal.Com!!! Thanks to everyone for your support! We hope to make 2005 count!

"Defiant Imagination" album should now be available across Canada - US and European distribution should materialize soon. In the meantime you can always check the merch section of our website for the new CD and the new shirt designs we had put. Anything you order is shipped by the band personally and sent
to you airmail the next day at the latest.

A new photo section has been added to the site in order to share the "Quo Vadis live" experience with you. A few photos from the Trois-Rivieres Metalfest 2004 are now posted. A Critique section was also added for you to have a look at what the media has to say about the new record.

January 3, 2005
Touring Lineup Photo has been added in the members section.
New Photo Section has been created - first up, photos from Trois Rivieres Metalfest IV.
A new review in the "Critics" section has been added.

December 19, 2004
The CD is out! More updates coming soon.
The "Critics" section featuring press reviews has been updated.

December 15 2004
First of all we were all shocked to hear about the terrible event that took place Dec 9th 2004 - namely the cold blooded murder of "Dimebag" Darrell Abbott. This senseless act has forever taken from us a talented musician and an irreplaceable contributor to the metal community. He will be missed and never forgotten by the millions of metal-heads out there.
Darrell: You are in our thoughts.

November 01, 2004
Hello to all!

Here is the update we have all been waiting for. We have received the CDs! They will be available for the first time at the shows on November 4,5,6 and 7. Come by and see us and get your copy!

November 4: Ottawa, ONT (Babylon - all ages)
November 5: Trois-Rivieres, QUE (Metalfest at the Maquisart)
November 6: Hamilton, ONT (AFB - all ages)
November 7: Toronto, ONT (Club Rockit)

We would like to mention that this series of shows are the first to present the new set, which includes the songs found on the new CD. We are looking forward to playing the tracks and hope you can rise to the challenge of withstanding the new Quo Vadis experience!!!

And last but not least, the video for In Contempt has entered editing. The shots look very interesting and we are anxious to see the final result.

We hope to see you at the shows!
Take care,
The Quo Vadis Crew


October 6, 2004
VIDEO:
As mentioned in our previous update, we are currently working on a video for the track In Contempt. The filming portion is now complete. We have included shots from the tracking of the video to give you a preview of what's to come. Click below to have a look. The video is now in the editing stage and we hope to have it completed by mid-November.
SHOWS:
We would like to announce 2 additional shows in October. We hope to see many of you there!

Oct 8 Princeville, QC
Oct 9 La Baie, QC

More shows to come in November,
Defiant Imagination in Manufacturing:
We have great news! The layout has been completed and that the manufacturing process of Defiant Imagination is underway! Updates will be provided to you as we hear from the manufacturing plant.

Reactions to the new album are beginning to come in and it's unanimous:

"Quo Vadis has, hands-down, crafted the best work of its career. By fusing a heightened sense of texture, dynamic and, above all, song-writing prowess, Defiant Imagination will weigh in as one of 2004's finest if there is any justice in this world..." - Brave Words & Bloody Knuckles/Digital Metal - David Perri

"Quebec heavyweights Kataklysm and Cryptopsy have reason to listen for the loud footsteps of upcoming technical death wizards Quo Vadis. Defiant Imagination, complete with a Jim Morris mix and guest bass legend Steve DiGiorgio, is a juggernaut of complex death and destruction that nods towards vintage Carcass for inspiration." - Brave Words & Bloody Knuckles - Tim Henderson

"...one time through and you'll feel as though you've been grabbed by the throat and kicked in the head, especially with those speedy kick-drum blasts. What Quo Vadis does exceedingly well is take the brutality of standard death metal (blasts, growls, etc) and add some rather progressive arrangements, and semi-melodic delivery. In fact, I'd call these guys progressive death metal, rather than technical death metal..." - Metal Maniacs/PIT/Live4Metal - Scott Alisoglu

"The band's forward momentum is a consistent revolving spectrum of intense ideas and breakneck mayhem. Unique in every sense of the word." - UNRESTRAINED!

« Tous les éléments sont réunis pour faire de ce troisième album de Quo Vadis un succès : mélodies aussi intenses qu'épiques dans leur progression rythmnique. Lourdeur implacable des morceaux et de la voix du nouveau chanteur Stéphane Paré, qui place par ailleurs ses mots toujours aux bons endroits. Les morceaux ne sont pas seulement heavy, ils sont aussi mélodiques, techniquement irréprochables et consistants. Rien de mieux qu'un mélange de death, de thrash et de heavy métal intelligent qui se laisse en plus découvrir au fil des écoutes. L'album est un tout qu'on écoute d'une traite, sans parti pris pour l'une ou l'autre des pièces. On peut donc parler d'un disque parfaitement bien équilibré. » - Voir Montreal/CISM 89.3 FM - Christine Fortier

Thanks to the reviewers who have taken the time to listen to the CD and send us quotes.

We will send you another update shortly.

Take care of yourselves,
The Quo Vadis crew

September 20, 2004
Most of the shots for "In Contempt" video have been completed sunday! We tried to experiment with the
set textures and the results have been astounding - imagine what you get when you cross 60 foot ceilings,
climbing gear, chains, nets, lots of mud and lots of coffee!

Great thanks to Louis-Charles, Maja, Benoit and Roxy for preparing the script and making everything happen
so efficiently.

September 17, 2004
Hi everyone,
We are happy to announce further details of the next Quo Vadis record. First of all the title of the album is "Defiant Imagination". You may have heard rumors of the title being "To The Bitter End", however, we felt that the artwork that was chosen for this album, featured on top of the page, embodied the sound and feel of the record perfectly. It also fit with our secondary choice of title "Defiant Imagination". Great thanks to the artist (Skydancer) who has granted us the rights to use this amazing image. The album should be available in stores in Canada by early November via Fusion3/Skyscraper. Below is the track listing:
2. In Contempt
4. Tunnel Effect [Element of the Ensemble IV]
5. To The Bitter End
6. In Articulo Mortis
7. Fate's Descent
8. Dead Man's Diary
9. Ego Intuo et Servo Te
Finally we will be shooting a video for "In Contempt" starting the morning of Saturday September 18 before our show in Greenfield Park at another location. We will then rush to the show, and continue shooting on Sunday morning! The video should be available in conjunction with the album release. Hopefully we'll be able to post some screen shots for you soon.
Stay tuned for more details.
The Quo Vadis crew.

Greetings everyone,
It's been about 2 months since we have updated the site. We are very glad to inform you about a major milestone that has been reached by the band since the last update. After almost 3 months of working on the mastering with Bernard Belley (Kataklysm, Malevolent Creation, Misery Index), we have completed the final milestone of sound engineering for the album! "It's nice to finally be done with the sound portion of the album. It's been quite a ride, and the sound of the final product is unbelievable! It sounds great! We are extremely happy with it and can't wait for you to hear it! - says Yanic" You can check the mastered versions of the songs here: ("Silence Calls the Storm" and "Break the Cycle" enjoy)!
We are currently working on an album cover - you can expect for it to be posted soon....
We would like to thank everyone for coming to our shows in June and July. The turnouts were great and we were really glad to see you there! We would like to announce two new shows coming up:
Greenfield Park, QUE on September 18
Trois-Rivieres, QUE for the Metalfest on November 5
We are honored to have been offered the Friday night headliner spot at the Trois Rivieres Metalfest. We can't wait to play and share the stage with all the great bands Friday and Saturday. We hope to see you there!
We would like to announce that Yanic is officially endorsing SABIAN cymbals. The endorsement was finalized approximately 2 weeks ago. "It's great to start working with Sabian. They make great cymbals, and they are a Canadian company! It's a win-win situation! ;)"- says Yanic. SABIAN has updated their site and have posted a photo of Yanic in the main section of the graphics on the front page of www.sabian.com. Go check it out! It will be there for about a week (until Sabian updates their site once again). The photo is one of five, which are generated randomly on the site. If you do not get his photo on the first try, simply click on the refresh button of your internet explorer/netscape software or click on the Sabian logo in the top left corner of the page. A screen shot is posted here.
We will have another update very shortly.
Take care of yourselves,
The Quo Vadis crew

July 19 2004
This is a short message to let you know that we have revived the Guitar Columns section of the website.
You will find a short discussion of Mute Requiem (Day Into Night) with notes and examples followed by a transcription of the beginning of the song [the topic is divided into two columns: Column #3 and #4].
We're heading out for shows in Ontario later this week we hope to see you there, come by and let us know if you find the two new columns interesting.
07/22/2004, Babylon, Ottawa, ON - EARLY SHOW
07/23/2004, Club Rockit, Toronto, ON
The Quo Vadis crew

June 20, 2004
Thanks to everyone who came out to see us at Mt. Tremblant and to all the bands at the show! We hope to see you soon.
Quo Vadis live lineup update for the upcoming shows:

For the June and July live performances, Quo Vadis will be
joined on stage by bassist Dominique Lapointe, aka Forrest (Atheretic,
Augury), and by guitarist William Seghers. Will has contributed 6 solos on
the new record and this will be his first show with the band.

We hope to see you at our shows:
06/20/2004, Kashmir, Quebec City, QC INFO 418 694 1648
07/02/2004, Rouyn Noranda, QC, open air
07/22/2004, Babylon, Ottawa, ON
07/23/2004, Club Rockit, Toronto, ON,

Take care,
The Quo Vadis Crew


June 13, 2004
First off, check out two new songs songs from our final mix: "Silence Calls the Storm" and "Break the Cycle" enjoy!

Upcoming shows:
06/18/2004, Mont-Tremblant Arena, Mont-Tremblant, QC - INFO
06/20/2004, Kashmir, Quebec City, QC - INFO 418 694 1648
07/02/2004, open air, Rouyn Noranda, QC
Greetings everyone,
It seems like ages since we last updated the site... We did not want to omit anything so the update grew to rather enormous proportions; as a result a decision was made to split it up into segments... Here is the first one...

Back in January, it was time for our new vocalist, Stéphane Paré, to lay down the vocal tracks... He had a big job ahead of him for the following reason: on previous albums, the band had two vocalists, which made arrangements for overlapping vocals quite easy. The vocal arrangements for this album were approached the same way, except this time, we had only one vocalist who had to sing everything... Stéphane says: "It was my first time recording vocals for Quo Vadis. It was a lot of work! I never thought it would be so demanding!"

For this album, the recording of the vocals was done at Bart's house. A vocal booth was built with sound engineer Yannick St-Amant, the gear was rented and Stéphane was then ready to record... Or so we thought... For some reason, the drive that contained the album's data (drums, guitar, bass) would not start. When taking the drive out of its caddy a piece that looked like a transistor fell out onto the floor. After a few hours of being unsuccessful in fitting the piece to the right location on the hard drive, Yannick and Bart found a new spot where the piece fit. They taped the piece with some scotch tape and started the drive. Nothing... "We thought that we would need to press the piece to the soldering in order to get a better contact but we did not have anything to press with." says Bart "We therefore went around the house looking for parts we could use... Finally the drive was fitted with a chopstick and a few layers of scotch tape. We put the drive back in and started it up. Nothing... In a fit of despair we looked for ANYTHING that would press the component closer to surface. Finally we put in an old cassette tape on top of the layers of chopstick and scotch tape, and pressed the caddy closed, squeezing it to the max with the cover. We put the drive back in, not really expecting for it to work anymore. We started it. IT STARTED UP!!!" This was crazy and unbelievable!!! but it worked - here is the drive's hellish contraption [photo].

With the drive working and everyone feeling better that the data was not lost, the recording of the vocals started a few days later. Stéphane and Yannick worked hard for over 8 hours a day for seven days, after which Yanic and Bart reviewed the tracks and made suggestions to Stephane concerning corrections which were required to be done the next day. "I had never worked remotely for reviewing vocal recordings." says Yanic. "Yannick, Steph and Bart would send me mp3 files of the tracks by email for me to listen to and evaluate. I would speak with Stephane over the phone at least twice a day to go over the corrections he needed to do. I think Stephane did a great job!" We are all very happy with the outcome of the tracks, and we are looking forward to sharing more of them with you!


We will have another update very shortly which includes the continuation of the "QUO VADIS: the third album" log.

Take care of yourselves and we hope to see you at our shows very soon!
The Quo Vadis crew

May 9, 2004
We're back! First, lets precede anything else we will say with the answer to the big question that everyone has been asking us ad nauseum over the past 7 months :) Yes the album is finished... and it has been done since January... In addition, just to make you wait a little longer we decided to mix it all over the continent ;) All the details of the past 7 months, will be posted over the next few weeks with all the juicy stories. For now, what we can tell you, is that a new track has been made available to a few radio stations listed below, keep in mind, this is a rough mix and it's un-mastered so it will probably sound a bit lower then the other songs in the play-lists. We will post the track ourselves within the next two weeks when we come back from Morrisound Studios in Tampa, FL, where the final mix will take place with Jim Morris himself. Keep your fingers crossed so that we don't miss our flights :)
CIRCULO DE FOGO VIRIATO FM 102.8 FM, Viseu, Portugal
THE DARKEST HOURS Online Radio, QC, Canada
DéCIBELS ROCK, CFNJ 99.1 FM, Qc, Canada - Tuesdays 9-Midnight
ELECTROCHOC/HORIZON 94.5 FM France - Mondays 8 - Midnight
FEEL THE RAGE CJIQ 88.3 FM, Waterloo, ON, Fridays 9-11pm
FUNERAL DIRECTORY 90.3FM, Knoxville, TN - Saturdays 8-10PM
HELLBOUND C101.5, Hamilton, ON, Canada - Fridays 9-Midnight
WRKC-88.5, Wilkes-Barre, PA, USA
PULL THE CHAIN/TOXIK WALTZ, RUN 106.4 FM, Belgium - Thursdays 8-10pm
RIOT IN THE DUNGEONS CFUV 101.9FM, Victoria, BC, Canada - Sundays 9-10pm
REANIMATION/CFOU 89'1 FM, Trois-Rivieres, QC, Canada
SPACE IN YOUR FACE CKMS 100.3 FM, Waterloo, ON Thursdays 10pm-Midnight
WRKC-88.5, Wilkes-Barre, PA, USA

September 8, 2003
Quo Vadis back in writing mode

Following successful shows with the new live lineup Quo Vadis are back to working hard on completing new material. The band will be concentrating on solos and vocals in preparation for the final recording sessions before the scheduled November shows:
08/11/03 - Trois-Rivières, QC
09/11/03 - Saint-Jérôme, QC
15/11/03 - Montréal, QC

To win free tickets for the Quo Vadis show at St Jerome Quebec, please go to the following website: http://www.subquebec.com/concours9.shtml

August 29, 2003
Hello to all,

Quo Vadis on the road:

08/29/03 - Ottawa, ON
08/30/03 - Amos, QC
11/08/03 - Trois-Rivières, QC
11/09/03 - St-Jerome, QC
11/15/03 - Montreal, QC

Steve Di Giorgio records bass for the new Quo Vadis album.
In light of Remy Beauchamp's departure, Quo Vadis decided to enlist the help of a session
bassist for the 3rd album. It is a great pleasure for us to announce the participation of Steve
DiGiorgio (Death, Control Denied, Iced Earth, Sadus) on the next Quo Vadis' record.
Internationally renown since the late 80s, Steve was in Montreal and St Zenon's Wild Studios the
week of August 11th. The bass tracks now complete, everyone is very happy to see all the
elements for the new record falling into place. We are all honored to have Steve as the bassist
for the album and we sincerely thank him for his time and effort that was put into the songs.

"Quo Vadis has reached the peak of their artistic excellence" Pierre Remillard...
With the guitar and bass sessions now behind us, the remainder of the recording, namely vocals
and solos, will be concluded in the next 2 months. Pierre Remillard, sound engineer for Quo
Vadis since their debut album "Forever", has this to say about the recording so far: "With this
album Quo Vadis has reached the peak of their artistic excellence, which presents dimensions
which are both technical and melodic". We are all anxiously awaiting the final release of our
new material!
Brave Words and Bloody Knuckles in studio report.
Shortly before the recent studio sessions "Brave Words and Bloody Knuckles" (BW&BK) joined Bart
and Steve for an informal chat on the concepts and progress of the new record. The interview
will be featured in an upcoming issue of the magazine.


Take care,
The Quo Vadis Crew

August 28, 2003
Just a quick note - Forrest (Athéretic/Augury) will be part of the live lineup for the scheduled shows. Many thanks to Forrest!
August 28, 2003
Hello to all,

We are saddened to inform you that Remy Beauchamp, bassist for Quo Vadis since 1995, has left the band. Remy was a member who was very appreciated by the band. He was very active on stage and very close to the fans. We will miss him! Remy would like to thank all the fans who have supported him in the last years. "I met so many great people, some who will stay friends 'Forever.'! Unfortunately, it is now time for me to move onto other project in my life. I have so many great memories and I would like to thank everyone who has made the past years unforgettable."

We will send you another update very soon, announcing the bassist who will participate on the next album.

Take care,
The Quo Vadis Crew


August 9, 2003
Hello to all,
We are sending you an update concerning 1) the next shows, 2) the recording of the third album, and 3) an official recognition, on a musical basis, of one of the band's members.
First, a few shows are scheduled for the months to come: August 29th in Ottawa, August 30th in Amos, November 8th in Trois-Rivieres for the Trois-Rivieres Metal Festival with Martyr, November 9th in St-Jerome, November 15th in Montreal with Symphony X.
Second, the recording of Quo Vadis' third album continues. The recording of the guitar, bass and vocal tracks will be complete by the end of September. The preparations for the album are moving forward very rapidly and the band is looking forward to having it released to the public.
To end with, some time ago, Yanic has officially been recognized on a musical basis by a few drum companies. Yanic has received endorsements from YAMAHA Drums, CLAVIA (DDRUM trigger modules) and VIC FIRTH drum sticks . "Sincere thanks to the companies for their generous offerings!" If you would like to discuss with Yanic, you can send him an email at ybercier4@yahoo.com.
We will send you another update very shortly.
Take care and see you soon,
The Quo Vadis Crew

May 13, 2003
Hey everyone,

We have the following news for you 1) the new Quo Vadis member, 2) the two March shows and 3) new show dates.

First we would like to welcome a new member of the band: Stéphane Paré who is joining Quo Vadis as a full time vocalist. Steph has been a part of the metal scene for many years and has known the band members since the legendary At The Gates/Dissection show in New York in 1996. We were all impressed by Stephane's performance at the first two shows and our perceptions have been confirmed by the feedback from the audience - we are all very happy with the results. Send your comments to Stéphane at band@quovadis.qc.ca. His photo has also been now unveiled in the photos section of the website.

Second we wanted to thank everyone who supported the shows at Metropolis (Montreal March 21st) and Kashmir (Quebec City March 22nd). Both nights were very memorable and the energy was simply amazing. These two shows were the first with new members, in addition special circumstances required most of the band to be outside of the country right until the night before the show. Rémy arrived two days before and Yanic only a night before the big show. The band had only one practice with all the members present. Needless to say we were very anxious when we walked on stage and very happy with the results at the end of the evening. These were the tightest shows the band has every played. We want again to extend our thanks to Alex Auburn (Cryptopsy) and Stéphane Paré for their time and dedication to learning the material and the many hours that were spent with Bart to learn the full set to perfection. Our sincere thanks go out to the people who made the Metropolis show an unforgettable one: Roxanne Constantin for her help with the keyboard parts and arranging the Conservatory/McGill choir, Maja Frydrychowicz and BCI for managing the choir/stage the night of the show. This was definitely the show with the most "extras" the band has ever done and it would not have worked out without your help.

Third we will be playing June 7th in Ottawa, ( Bumpers Roadhouse). Alex Auburn will join us on stage once again as he has already done in Montreal and Quebec City.

Our thanks go out again to all the fans in Montreal and Quebec City who showed up and supported the band. We'll see you back soon.

The Quo Vadis crew

March 12 2003
Greetings,
This is an update on the band's activities over the last few months as well as what is in store for us in the future.
1) Shows
Two shows are now confirmed for the month of March: March 21st at Metropolis, Montreal and March 22nd at Kashmir, Quebec City - Quo Vadis will be supporting Anonymus album release shows on both occasions. Since the band has not found a permanent replacement for the recently departed guitarist, Alex Auburn of Cryptopsy has been enlisted to help out for the two March shows. We are all very grateful to Alex and want to extend our sincere thanks for the time and effort he has put into preparing for the upcoming dates.
In addition, the band has been recently working with a new vocalist. The upcoming shows will help the band members decide whether to add him as a permanent member. His identity will be revealed on March 21st at the Montreal show. For a hint, visit our website (www.quovadis.qc.ca) and check the "members" section. The band will also play some new material and are planning additional surprises for the Montreal and Quebec City shows.
2) New Album
The new album is about half done, the band has been in and out of Wild Studio since September recording various sessions. All drums are complete, guitars are 80% done. The band is currently working on vocals and the last details for guitars and bass. The album release is scheduled for late summer/early autumn.
We hope to see you at the upcoming shows, if you have any questions in regards to shows, recording etc, please do not hesitate to contact us.

August 14, 2002
Hello to all,
This is an update on Quo Vadis' activities for the months to come. Announcements concern 1) a change in line-up, 2) a search for a fifth member as vocalist, 3) the new material, and 4) a change in booker (show management).
First, Arie Itman, guitarist of Quo Vadis since the birth of the band in 1992, has decided to leave the band. We wish him success in his new projects and thank him for 10 years of contributions to the band. Arie has been replaced by Daniel Mongrain. Daniel is well known for his work with Martyr, Gorguts, Breen Leboeuf and numerous other bands from various styles of music. His diversity and dedication to metal will certainly add a new dimension to the band. We are happy to welcome Dan as part of Quo Vadis. It is important to note Daniel is NOT leaving Martyr, which remains his main band.
For a second note, Quo Vadis are now searching for an additional member as vocalist for the band. The vocals on previous albums, performed by the band's two guitarists, have been recognized for their originality and intensity, however, the band would like to welcome new talent to increase the quality of the vocal work. The vocalist would be encouraged to experiment but must be capable of performing past Quo Vadis album vocal types. Interested performers can send an email to band@quovadis.qc.ca, with "vocalist" as the email subject, indicating their name, address, as well as their recording and live performance experience.
For a third note, the music for six of the nine songs for the new album has been completed. We are all very excited about the sheer velocity and aggression of the new material. The new tracks are well on their way to bring the Quo Vadis sound to a new level of power and intensity, however, the core sound remains to be recognized as the Quo Vadis sound. For those of you who checked out the pre-productions songs, be prepared to hear completely new material... Almost all of the early versions of the songs have been fully deconstructed and re-done with the best riffs.
For a fourth note, Brave Concerts International (www.braveconcerts.com) is now the official booking agency for Quo Vadis. In existence since 1992, they have worked with international acts such as Kataklysm, Hypocricy, Kreator, Blind Guardian, In Flames, Dark Tranquility, Immortal - the list goes on. BCI is also closely associated with Skyscraper Records (www.skyscraper-music.com), which is Quo Vadis' label in Canada since 2000.
More news will be sent in a few weeks. Until then, stay heavy.
The Quo Vadis Crew
June 21, 2002
Hey everyone, the third song from our pre-production series is available for download now. Check it out and let us know what you think. Thanks to everyone who contributed their comments in the past. This one is entitled: "From Sequence to Consequence"

May 27, 2002
This is a short note to let everyone know we added the second song from the pre-production series. Come by and check out "Justice Delayed is Justice Denied". Thanks to everyone who contributed their comments, keep them coming and don't forget about the "Weekend Extreme" this Friday and Saturday in Montreal.

May 15th 2002
Hi everyone,


We have a few updates for you.

1)
You can now go to our site and listen to one of the four new songs we promised you. The first of the series: "Last Time" is now available. A few impatient souls already found the song before we had the chance to announce it and already sent us their comments. Thanks a lot to all of you and keep them coming. In addition we also added 3 songs from Passage in Time: a studio track found on the CD - Vital Signs 2000, Point of No Return (Live in Montreal) from the live section of the CD and Sons of Greed from the legendary Quo Vadis demo 95. So you have 4 new songs to check out if you haven't heard the Passage in Time material yet.

2)
Do no miss the "Weekend Extreme" in Montreal May 31st and June 1st. An amazing lineup of Obliveon, Quo Vadis and Ghoulunatics as well as Cryptopsy, Martyr, and Neuraxis all under one roof over two days. There is also a free show at Cafe Chaos as well as an exposition of 20 years of metal history in Quebec and Canada. Do not miss this even if you have to drive from Ontario or the US. For all the info, hotels, maps and directions check the Metalmania website at www.metalmania.qc.ca
Hope to see everyone there. The tickets are available on Admission at (514) 790-1245 and at www.admission.com
3)
The Dysgenics Video has been submitted to Musique Plus and Much Music. It would be great if we could get some airplay before the Weekend Extreme in Montreal on May 31st so please request it here for Much Music and here for Musique Plus. If there is a station in your area carrying metal let us know, we'll send them a copy. You will be helping out not only Quo Vadis but also the metal scene.


May 10th 2002
Hello to all! This is a brief report concerning the band's accomplishments since the beginning of the year as well as what is in store for Quo Vadis for the next months.

Since February, we have been preparing new material for our upcoming album to be recorded by the end of summer 2002. In March, we completed the first pre-production round. We will have one song available for download on our website every 2 weeks in order for you, the fans, to hear what is to come for Quo Vadis and the new material. The first song will be available the week of May 13th and the next songs will be available May 27, June 10th and 24th. It is important to note that pre-production is a low quality recording which allows us to evaluate each song before the recording of the album. The songs will therefore be greatly modified before the recording of the album. Even if the sound quality is not the greatest and that the songs will drastically change, we thought that you would be happy to hear what is expected of the next Quo Vadis album, so here they are! Enjoy and send us your comments. In fact we would greatly appreciate to hear your views on the new material - send them to band@quovadis.qc.ca. From those who will have sent in their comments, 5 lucky winners will have the chance to visit Quo Vadis during a recording session for their next album.

We are currently getting ready for a show with Obliveon and Ghoulunatics, scheduled for May 31st. This will be the last Quo Vadis show in Montreal before the release of their next album. We will play one new song that evening and we therefore hope to see many of you there! If you haven't bought your tickets yet, please do ASAP. The tickets are available on Admission at (514) 790-1245 and at www.admission.com

We will send you more news very soon. The next pre-production is scheduled for early July and we will therefore send you more news around this time.

Take care of yourselves!

Quo Vadis
September 16, 2001
Hello to everyone, please be advised that due to delays at the duplication facility "Passage In Time" has been temporarily delayed. Everyone who pre-ordered the album will get it before it hits the stores - guarantied. Please be patient as the delays were beyond our control.
August 15, 2001
Hey all, we're leaving today for our shows out west. Quebec may get a couple of shows at the end of August - those are being confirmed at the moment... The big news is, the video is here for you guys to check out... FINALLY. Check out the popup window that appears when you enter the site.
We were hoping to have it submitted to Musique Plus and Much Music before we left but unfortunately there was no time for that. That should be done when we come back. We want to see you all at our shows so do your best to make it.
Stay heavy.
July 1st, 2001
Hey all, some new stuff for you to check out:
First, we just uploaded a new guitar lesson for all you guitar freaks out there. Second we have our Canadian tour dates scrolling above, check them out and be at the show because we won't be back for another year.
June 24, 2001
Hi,
We are currently in at the final stages of mixing the final tracks for "Passage in Time" which should see the light of day some time in August on Skyscraper Records. We're still listening to the live tracks to include on the record so there may be some changes but we so far have narrowed it down to "Dysgenics" - the live "speed metal" version of that song and "Point of No Return: Mute Requiem" - check out the double bass and Yanic's fills on that one - pure pandemonium... There may be an additional one or two live track that some of you have already seen Quo Vadis perform - Legions of the Betrayed was supposed to be one of the live songs on the album but due to technical difficulties during recording of that song we couldn't include it on the upcoming record.
The new revision of our video for Dysgenics is also in its final stages of postproduction and expect a clip on the website available soon for download.

In other news - we are happy to announce that Skyscraper Records/PHD will be the official distributor of Forever... and Day Into Night as well as Passage in Time. Consequently it also needs to be mentioned that Quo Vadis will is no longer associated with Hypnotic Records as of March 17th 2001 with all outstanding rights reverting back to the band. The decision to part ways was mutual and amicable and we sincerely wish the best to everyone at Hypnotic. The distribution of Day Into Night and Forever... for the territory of Europe is now handled by Premium Records/Connected.
We would like to extend our apologies to all the fans from Hull and Quebec City for the two cancelled shows in May. For Quebec City, the reason was that apparently a wall had collapsed or something like that and the show had to be postponed. In Hull the police was giving the bar and promoter problems. We will do our best to come out and reschedule the shows in upcoming months.

Europe is doing well, we did some nice interviews for a European magazines like Morbid Noize, Rock Hard. Thanks for everyone who supports us in Europe and keep spreading the word.

August will see Quo Vadis supporting Kataklysm in their Epic tour 2001. A total of 10 - 14 shows will take us through BC across all the provinces ending back in Ontario/Quebec.. We are awaiting the final details and dates and those will be made available to you as soon as they become confirmed.

Finally we'd like to thank all the bands that participated in Frowz Fest, Sebastien Theoret, and everyone involved who helped us out at the Medley.
That's it for now, go in peace and don't do anything we wouldn't do...
}:>
February 7th, 2001
Quick Update, Check out our new guitar column for all you guitar freaks. Stay tuned for a real update this weekend!!!

Oh Yeah, Quo Vadis also got nominated for this years MIMI [Montreal International Music Initiative] award. "The event supports Montreal music cultures in all their linguistic complexity and fragmented stylistic sub-genres." Go and cast your vote, (Metal is category # 16) here: http://www.mondo-live.com/mimi/
Jan 11th, 2001

Another news update... Metal Mania, one of the most prominent Quebec metal sites has just published an interview with the four members of Quo Vadis. You can read it at

In addition to the show in Rimouski we are currently preparing a couple of other shows that will see us finally head out to Ontario - stay tuned for more updates as well as details of our demo re-release... we are working hard to make it an interesting surprise. Finally we completed some new shirt designs, so check them out at our next show and on the website...

Jan 10th, 2001

We have a few shows coming up - more info on that soon. We will also let everyone know the status of our demo re-release as well as the projected date it will be available.

Dec 18th 2000

Hi all,
Just a small note to everyone concerning the December 22nd Musique Plus show . The date of broadcast has not yet been determined so make sure to come in person to the Musique Plus Studios. This will be your chance to watch us perform in a TV studio environment and ask us any questions you may have before the cameras.


Dec 11th 2000

NEW NEW NEW NEW NEW NEW NEW NEW NEW


YTV, in conjunction with Musique Plus, will be presenting Quo Vadis, Friday, Dec 22, 2000 at 7:30pm in the Musique plus environment. All our fans are invited to share the experience with us as we release our first music video. We will be performing there as well, so we need all you guys to come out and support the metal scene and Quo Vadis. Admission is free, so bring along everyone you know! We hope to see you there...metal is back!!!!People should come between 7:00 and 7:15 to be able to get in. We will be performing, showing the video, doing an interview and Seth (our video producer) will be answering questions regarding the video. The whole process will take 2-3 hours, but you will be helping make this a special event for Quo Vadis and will get a chance to be on musique plus and YTV!


Nov 25, 2000

Greetings...
There is so much to say that I will just start right away.

Show: Dec 2, Bistro Laurier, 940 Blvd Laurier, Beloeil Quo Vadis, Unhuman, Euphoria - $3, 18+
Be there!

Europe: CD's are ready and promo's have already been sent to major magazines across Europe. Official Release date is November 27th for Germany and January for all other European territories. To any of you who are from the old continent, call your local stores, magazines, radio stations get them to get the CD, to play it and to talk about it. It is very hard for a band to break in Europe especially since we're on another continent and can not tour. You've enjoyed our music - now help us get the music out, ask for the CD in your local metal stores - if you get them to order or play us on the radio let us know [with e-mail of contact person to confirm], and we'll send you an autographed poster for your trouble. IF they don't know where to order here are some of the distributors:

Connected, Germany
Suburban, Netherlands
House of Kicks, Sweden
Spinefarm, Finland
Nordic Metal, Denmark
MAB, Czech Republic
Metal Mind, Poland
White Russia, Russia

Mailorders:
Metal Merchant, Last Episode, Helion, Nuclear Blast, Cyclone Empire, EMP

The second big thing is THE VIDEO!!! We're filming on Nov 18th and the 26th. The premiere will be on YTV some time in January - they will be doing a documentary on Seth [Our Videographer] shooting our video. It will be pretty strange having Seth film Quo Vadis and YTV film Seth Filming Quo Vadis at the same time - we'll see how it goes. We are posting the video mix of Dysgenics on the internet for you to check out, so download it and let us know your opinion in the guest book.

The Noel Dans La Rue Compilation is OUT!!! Get it at your local store and check out Quo Vadis version of "So This is Christmas... (War is Over)" - we'll put that one up on mp3 as well soon for you.

There are new shirt designs [Kangaroo's for Carpe Diem and Day Into Night] available - come and check them out, some old designs are sold out and we will be re-making the shirts soon.

Finally you can now order our stuff online through credit card - this is a secure method, labels use it so it must be reliable. This will cut the time for you to get your QV stuff in half! No longer do you have to go and make a money order and then send it to us, worry if it was the right address.
Just fill out the form and you will even get a status e-mail when your package is sent.

All our shows went Great. The Nov 3rd show at the Medley was insane! Over 1000 of you came to show your support for all the three bands. We've NEVER seen so many Quo Vadis shirts in one place... Awesome.

A new label came forward interested in releasing our demo from 1995... we're currently thinking of putting two extra tracks from our Day Into Night recording session that are not on the CD as well as the video we're about to shoot next week - hopefully you'll find this an interesting package. We would release it around the same time as we release the video + documentary that Seth is working on...
Till next time!

Sept 28, 2000

Just a note to everyone wanting to go to the Martyr/Quo Vadis/Horfixion show in Quebec City [Sept 30]... All the presale tickets are sold out BUT there are still 150 or 250 tickets at the door [not sure of the total capacity
for the bar]. So if you were planning to go, don't worry, there will be room for everybody. Hope to see you all
there!

Sept 25, 2000

Greetings everyone!

First of all thanks to everyone who entered our studio contest - the winner
was Gabriel Malenfant who came in with Quo Vadis for one day while we were
recording the song "So This is Christmas..." for the Noel Dans La Rue
Compilation. The comp will be produced again this year by MPV Records. For
those of you who don't know - the CD features some of the best Quebec
artists and is released around Christmas time, a portion of the profits go
towards "L'Anonyme" an organization helping homeless youth. All the bands
on the compilation play a known "Christmas song" - be sure to check it out
- not only for QV but for the best of the best of Quebec music scene.

To the poster winners from July - big apology for taking so long to get
around to doing this but over the past 3 months everyone in the band was
out of the country for a at least a week each, but things are getting to
normal and you will have your posters soon.

We will be doing 4 shows in the next month and a half - two are already
posted and the other two are in the process of being confirmed. Finally,
we're adding two more songs from Day Into Night for you to check out:
"Dream" which is a scorching guitar instrumental that should impress even
the most avid guitar aficionados as well as "Point of No Return: Mute
Requiem" - fast as hell with the fastest double bass anywhere...

Anyway, What is to come... We have the MTV Friendly mix of Dysgenics -- and
we will be posting it online soon. The video producer for this little
project, Seth Mendelson, won the "Grand Prix Kodak Canada" value $5000 for
his short film "What to do" so we await his creative efforts to come to
fruition with great anticipation... Congrats dude... Seth should be with us
for the upcoming shows so if you're there and you see him filming on stage
go crazy for the camera and you may find yourself in the video.
Long-term, we're thinking of re-releasing our first release from 1995 - if
there is some interest we will throw in some new bonus tracks.

Europe is STILL Delayed - more technical issues - to the fans from the US,
Finland, Sweden and Spain that couldn't wait and got the CD directly from
us: YOU GUYS RULE!!! sign the guest book and spread the word!
The Cd is now available through most major distro's in the US [Century
Media, The End Records, Relapse], ask for it in stores or order it online.
We're slowly but surely spreading the word...
Finally I will put the new shirt designs up together with the next update
after the Quebec City show...
See you at the shows!

August 09, 2000

Greetings...
After long delays here are the results of our contest from July. The top 5 songs are listed below... we used the results to help us pick which songs to play live and they definately got the crowds moving... The poster winners can be found here. Everyone on the list please contact us at QuoVadis@musician.org with your name and address so we can send out your posters.

And here are the top 5 song results:

Coming Soon: New shirt designs...

July 19, 2000

Greetings everyone,

We've been extremely busy in the last few weeks. With the help of our record label - Hypnotic Records we've been able to distribute over 10 000 fliers in a number of international magazines. We have two new shirt designs which we will put up on the web site in the next couple of weeks.

Shows/Kataklysm Tour

Our show in St Jean with Necrotic Mutation went very well, thanks to all the fans who came all the way from Sherbrooke to see us and everyone who came out to support the band!

The shows with Kataklysm went amazing a great thanks to all the crazy fans from Abitibi (Rouyn) and Quebec City and everyone else in Sherbrooke and Trois Rivieres. This will be certainly a memorable week for all of us. Everyone who was at the shows probably saw the cameraman (Seth Mendelson) filming everything and believe me we have tons of great material for our video. The final product will be available hopefully in a couple of months. Once it's out we will certainly let everyone know and we'll be counting on all of you to request it at Musique Plus and Much Music.

Thanks to Kataklysm, Stephane from BCI, and all the bands we played with over last week.

New Releases

The Release of Day Into Night in Europe has been delayed until August due to a packaging mishap - we're still trying to piece together what exactly happened but apparently "The production company

mixed up wrong artwork with right music." Hey maybe they'll turn up to be collectors items one day.

The Frowz compilation "NOVA FRANCIA : Discovery of a new Land" is finally out, featuring "Point of No Return: Mute Requiem" as well as fourteen of the best Quebec bands. We're very proud to be a part of this very important compilation especially since we're in the company of the best Quebec bands.

Till next time and see you all at the next show!

May 29, 2000

Greetings everyone...
By the time you read this, our web site should be officially up and operational in both languages, come and visit for news and updates.

We've been quiet for a long time since our release working behind the scenes... There are many exciting things, some we can mention now others perhaps will come to fruition in the next few weeks. First of all we'd like to thank everyone for coming out and supporting Quo Vadis at our release show. With Immortal and Satyricon playing the Blastphemy Fest a day later, we were pleasantly surprised to see over 600 people at our show. Great many thanks to all the fans from Quebec City and Rouyn Noranda who made all the way to Montreal! Again, we wouldn't be able to do it without your support. Thanks to Hanker and Kralizec as well as everyone at Metalmania and FreeSon!

Here is what is confirmed for Quo Vadis in the next couple of weeks:

The song "I Believe" from our latest album Day Into Night will be featured on Brave Words and Bloody Knuckles' "Knuckle Tracks" compilation CD!
We also recently did an interview with BWBK so look for it in issue 42
or 43.

The song "Point of no Return: Mute Requiem" from Day Into Night will be featured as the first song on Frowz Productions' Rage From Quebec compilation CD. Frowz will be pushing this one all around the world resulting undoubtedly in raising the awareness of the quality of band here in Quebec!

More compilation news! Quo vadis will be recording a song for the annual "Noel Dans la Rue" compilation some time this summer. Traditionally the compilation covers christmas
songs. Expect something completely different that will blow everyone away...